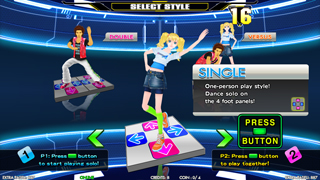 ■SINGLE
フットパネルを一人で4枚使ってプレーするスタイルだよ!

One-person play style!
Dance solo on the 4 foot panels!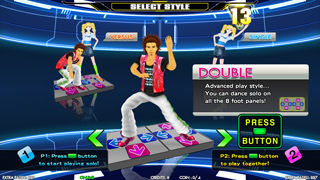 ■DOUBLE
フットパネルを一人で8枚全部使ってプレーする
上級者向けスタイルだよ!

Advanced play style...
You can dance solo on all the 8 foot panels! This style is for advanced dancers!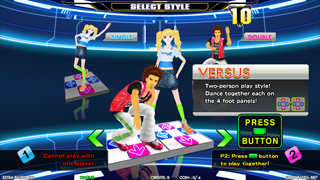 ■VERSUS
フットパネルを4枚ずつ使って
二人で一緒にプレーするよ!

Two-person play style!
Dance together each on the 4 foot panels!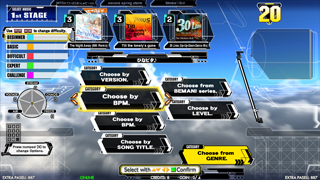 最初にカテゴリを選びましょう。

・バージョンから選ぶ
・BEMANIシリーズから選ぶ
・BPMから選ぶ
・レベルから選ぶ
・曲名から選ぶ
・ジャンルから選ぶ

…などから選択できます。
Select a Category first.

Choose by VERSION.
Choose from BEMANI series.
Choose by BPM.
Choose by LEVEL.
Choose by SONG TITLE.
Choose by GENRE.
Your choices are…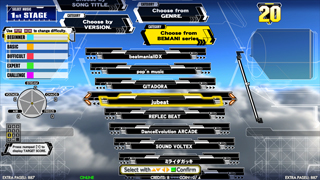 カテゴリを選んだ後は、フォルダを開いて遊びたい曲を探します。
After selecting a Category, open a Folder and look for a song you'd like to dance to.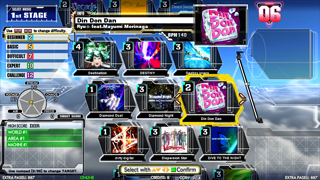 遊びたい曲を探したら、
←→ボタンで選んで■ボタンで決定します。
Select your favorite song using
←→buttons! Use ■ button to confirm.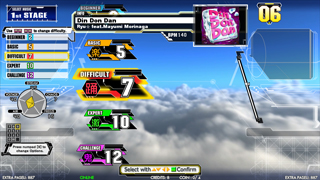 曲を選んだあとで難易度を選択できます。

・BEGINNER…初めての人向け
・BASIC…ゲームに慣れてきたら
・DIFFICULT…手ごたえを感じたい人へ
・EXPERT…刺激を求めている人向け
・CHALLENGE…新しい世界を感じたい人へ

 ※CHALLENGEがない曲もあります。
 自分の腕前にあった難易度を選びましょう。
You can select the difficulty level after making your song choice.

・BEGINNER…Introductory steps for beginners.
・BASIC…A difficulty level easy enough for anyone to enjoy.
・DIFFICULT…A difficulty level that includes realistic dance moves.
・EXPERT…A difficulty level strictly for expert players.
・CHALLENGE…Difficult steps, but fun to try!!
*There are songs without CHALLENGE level as an option.
Please select the difficulty level suited for your dancing skills.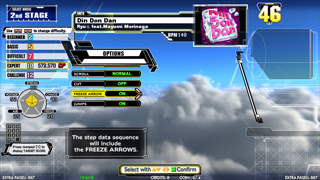 ■ボタンを押しっぱなしにしているとオプション画面を選べるよ!
自分好みにカスタマイズして、楽しく踊ろう!

※e-amusement passを使用すると、より多くのゲームオプションを設定できます。
選択できるオプションの詳細はこちらから!
Hold the ■ button and enter the Options Menu to modify the game:
Customize settings to your liking. Enjoy dancing!

*More game option settings will be available when using an e-amusement pass.
Please click here for detailed information of available options.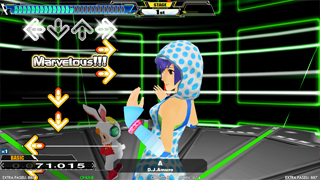 音楽に合わせて画面下から流れてくる矢印オブジェが
画面上部のステップゾーンと重なった瞬間に同じ方向のパネルを踏もう!Arrows appear from the bottom of the screen and move up to the beat.
When these arrows reach the Step Zones at the top of the screen overlapping with them, step on the corresponding panel(s)!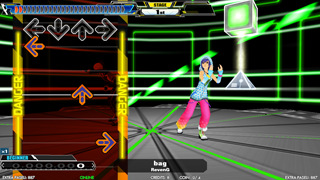 ダンスゲージがなくなるとFAILEDになります。
When Dance Gauge becomes empty, you get "FAILED".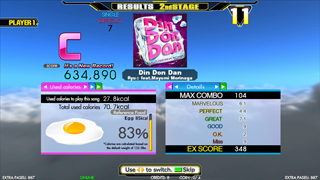 リザルトで自分のプレーの気になるポイントを確認!

←→ボタンでページを切り替えよう。
Check the spots you are concerned with from your play on the result screen!

Use the ←→ buttons to switch pages.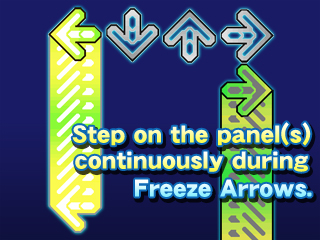 ■フリーズアロー
長い矢印(FREEZE ARROWが来たら矢印の終わりまで踏み続けましょう。
■FREEZE ARROW
When you see long arrow(s) (FREEZE ARROW), it means that you have to keep your foot or feet on the panel(s) until arrow(s) pass over the Step Zone.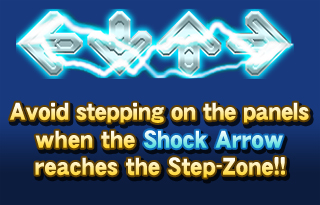 ■ショックアロー
稲妻の付いた4方向セットの矢印が来たら、
4方向の何処も踏まないようにパネルの外に上手く逃げましょう!

間違って踏んでしまうと、一定時間ショック状態になって次の矢印に反応できなくなります。
■SHOCK ARROW
When you see a set of arrows pointing four directions with lightning bolts , avoid stepping on any of the panels!